For language arts Btw I know it kinda sucks
Might be wierd format cuz i copy and pasted it. I tried to fix it.
My Cat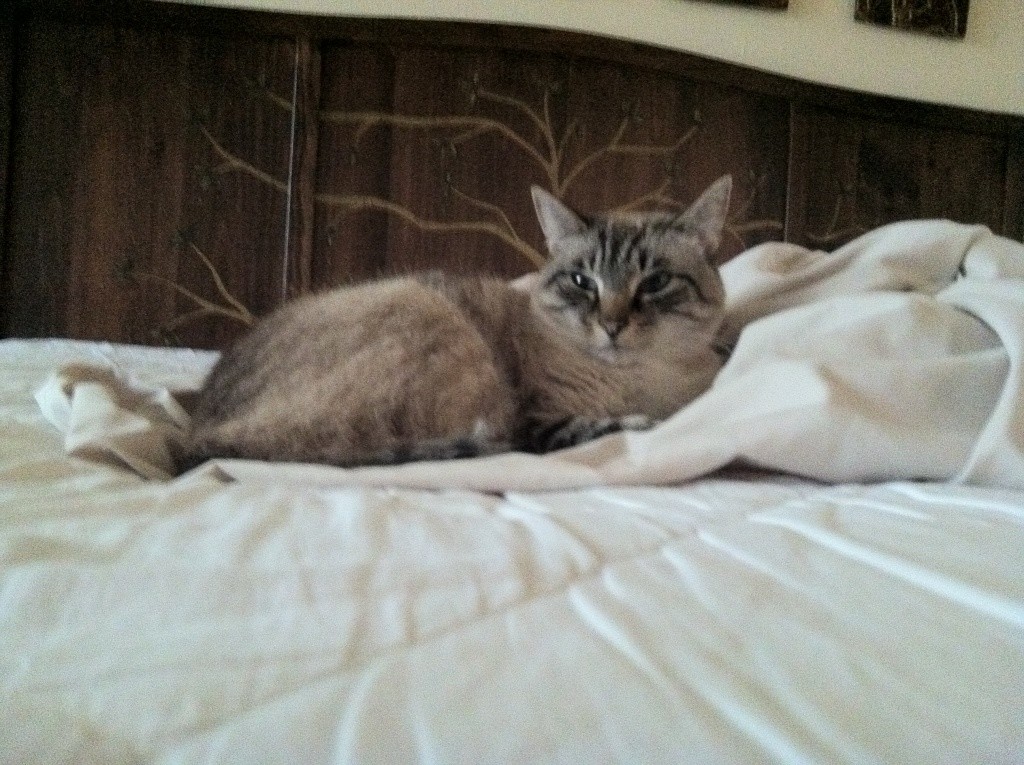 One thing that shows loyalty to me is my pet cat. We got her because she was staring at us with the cutest look when we went to the rescued cats shelter. Nobody else got her because they wanted her only, but actually she had a sister, We decided to take them both to live with us.

Once we got Dory we knew it was the best choice because Dory showed alot of loyalty. Wherever I go Dory will follow me. When I sleep she will sleep with me, when I run out to get a snack she will come. She is an indoor cat so she has not much more to do than follow me and show her great loyalty. When we give her food she will always rub against me, before we give her food she comes right to me and purrs.

Dory will come to me with all the things I taught her. If I snap, she will run to me as fast as she can. If I click my tounge she will run over to me. If I clap she will come to me. If I do any of these things and she is by me already she will just look up at me and stare. When she gets there she rubs her head against me or my friends.

When i'm feeling down she will lay beside me. If she hears me crying she just somehow knows that im feeling blue and will come lay by me. Even when im not crying she still somehow knows, she walks up to me and just lays there right next to my ear and purrs. If im ever on my computer she will just walk across my screen and won't ever go away unless I tell her to, ever though when I tell her she just moves and still lays next to me. This gets a bit annoying but atleast I know she will always love me and be by my side.

Dory is the best cat I have ever gotten. If she ever gets outside of the house she will always come back, she is not allowed to go outside but when she does I am never worried because I know she will be back soon. When she's away I am just worried that something will happen to her. She shows so much loyalty to me by coming when I snap, rubbing against me, coming by my side when I am feeling low. I am glad to have her and she is glad to have me.
She kinda looks like mine.

Magic

Void Addict





Coolness

: -44


Join date

: 2010-08-31


Location :

d



Just wondering: if you thought/knew it sucked, and if it was just some essay for school, why'd you post it here? =P

Your cat is very cute; my friend has a cat that looks exactly like that one. As for the essay: o-o.

Yulli

Void Addict





Coolness

: 30


Join date

: 2010-06-14



awww that was heart warming to read. Very cute.
_________________________________________________________
Hello Guest you have a nice profile: .
I can't wait for your birthday, you won't be 0 for too long. You've been living since 0, a couple of months is no biggy.
It seems like we've known each other for so long, but you've only been here since . And you already have 0 posts! Wow!
MadStory Server Info and Rules
Downloads and Terms of Service
Updates and TODO list
Contact Me:

admin@madstory.org
Thanks hugo xD

~Btw updating this soon rewriting it in a bit~

---
Permissions in this forum:
You
cannot
reply to topics in this forum